The Select tool can be used for so much more than just selecting and renaming fields! Save time during development by leveraging all of its options.
Select tool functionality can also be applied to other tools such as the Join tool.
Tip 1: Forget All Missing Fields
The Select tool remembers fields that used to be included in the data but are now missing because they were removed upstream. This is a useful feature when building workflows to help you trouble shoot to make sure all data flows through. To clean this up, use the "Forget all Missing Fields" option in the select tool.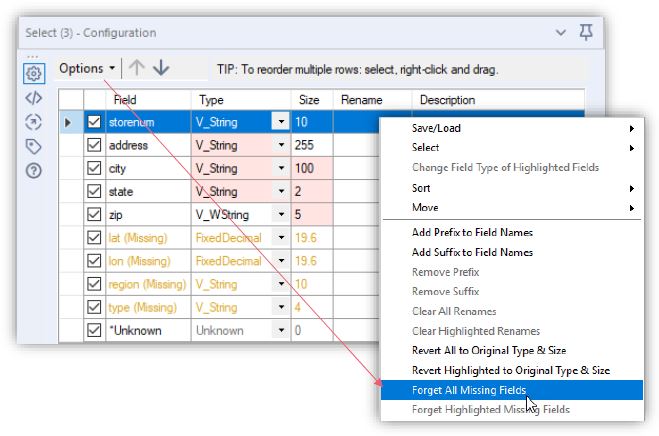 Tip 2: Unknown Fields
The Select tool (and other tools with select functionality) have a row labeled *Unknown at the bottom of the list of fields.
With this row checked, all new fields from upstream are passed through.
Unchecking the row *Unknown stops any new fields from being included downstream. This is useful if you want to ignore changes in incoming data and want to ensure a consistent output.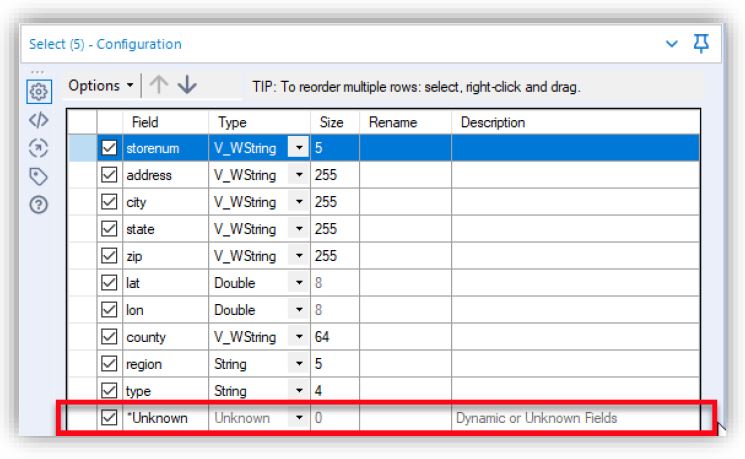 Tip 3: Grouping Selected Fields
You can sort by selected fields only by clicking on the space above the select fields column:
That´s it! Now you know how to use the SELECT tool efficiently!